April 2021: The Power of POCUS for Cardiac Care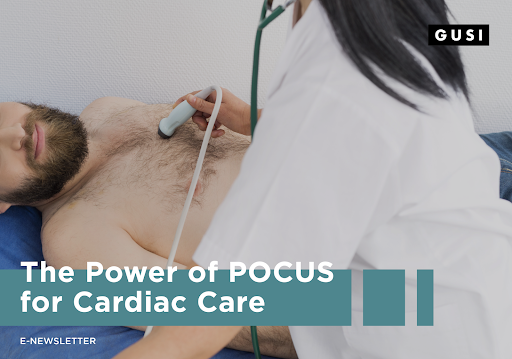 In cardiac care delivery—both inpatient and outpatient—the ability to rapidly diagnose heart problems and make informed treatment decisions is paramount. Point-of-care ultrasound (POCUS) is one of the most important tools available to clinicians who are conducting physical exams of the heart. 
Here are two examples of the power of POCUS to rapidly narrow your differential, reduce clinical uncertainty, and guide management in cardiac care:  
Case #1: Outpatient 
A 72-year-old male, overweight chef with a history of smoking, hypertension, and COPD sees his PCP for shortness of breath. His normal inhalers aren't working.  
Physical exam without POCUS…
With a stethoscope, the PCP hears decreased breath sounds at the lung bases and is unsure if S3 is present. She notes trace ankle edema. To gather more information, she orders a chest x-ray and prescribes five days of steroids and antibiotics. Unfortunately, the patient's symptoms worsen and he presents to the ER before the imaging results arrive.
Physical exam with POCUS…
The PCP incorporates ultrasound into the bedside exam to visualize the heart and lungs. She sees:


Depressed Ejection Fraction and Dilated Left Atrium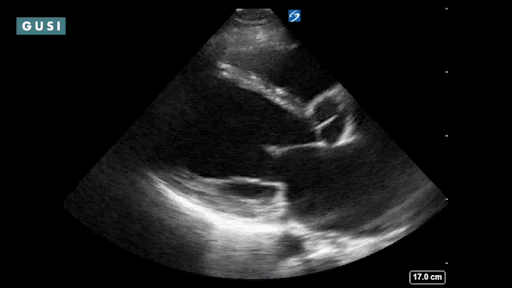 Dilated IVC with <50% Respiratory Variation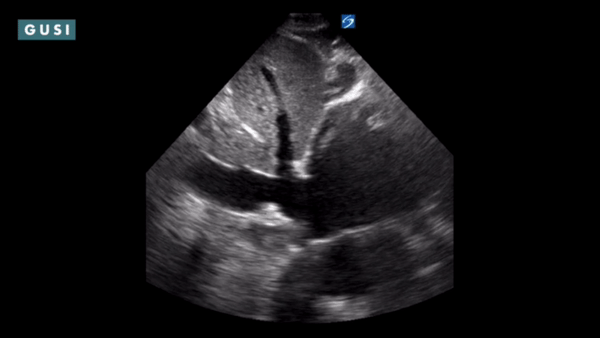 Bilateral B Lines at the Bases, Suggestive of Pulmonary Edema
The combination of these POCUS findings is strongly suggestive of new onset acute congestive heart failure (citation). The patient is admitted to the hospital the same day. 
Case #2: Inpatient 
An attending physician is called to the bedside of a 58-year-old obese woman who has chest pain, shortness of breath, and a new oxygen requirement. The patient had been admitted for hip surgery, and has a history of hypertension and congestive heart failure. The physician has two differentials: an exacerbation of underlying heart failure or a postoperative pulmonary embolism. But which is it?
Physical exam without POCUS…
The physician identifies tachycardia and accessory respiratory muscle use. There is no cardiac murmur, wheezing, or rales. He decides to order a chest x-ray first, and will later consider a CT scan to evaluate for a pulmonary embolism. 
Physical exam with POCUS…
The physician uses ultrasound at the bedside to diagnose acute right heart strain and evaluate EF, IVC size, and IVC collapsibility. He is able to definitively rule out the presence of a pericardial effusion, pulmonary edema, pneumothorax, or pleural effusion.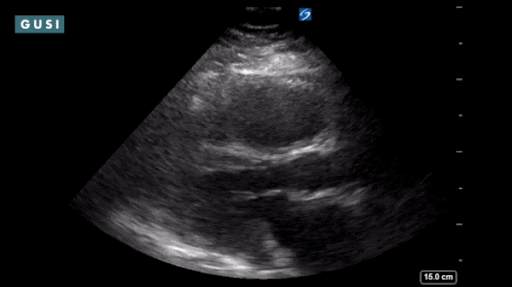 The POCUS finding of acute right heart strain is strongly indicative of a pulmonary embolism (citation). The physician knows he must order a CT scan immediately. 
The Takeaway
When faced with sick patients, clinicians are under incredible pressure to quickly and accurately diagnose what's wrong. POCUS is a rapid, resource-efficient way to definitively diagnose patients at the bedside, in both inpatient and outpatient settings. POCUS turns diagnostic uncertainty into confidence.
New to POCUS? 
GUSI offers an online Master Course with over 100 modules about POCUS basics, scanning techniques, clinical applications, and more. Learn to incorporate POCUS into your practice at your own pace.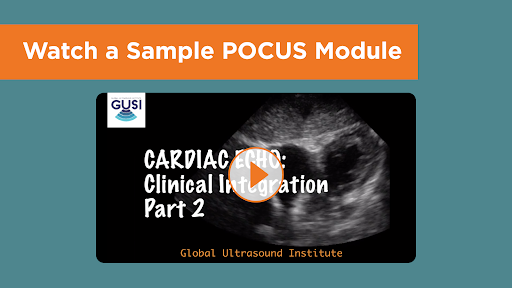 Hyperlink to Cardiac Clinical Integration 2 on Vimeo
Want to Hone Your POCUS Skills?
If you're already familiar with cardiac ultrasound but want to hone your skills alongside POCUS experts, GUSI also offers one-on-one mentorship sessions, real-time scan reviews, an online scan portfolio, and more.

Sign up for GUSI's e-newsletter and updates here.