May 26, 2021
We're thrilled and honored to announce that GUSI and MedGlobal have been awarded the 2021 MissionPOCUS grant from POCUS Certification Academy! Together we will train physicians in the Rohingya refugee camps in Bangladesh to use POCUS.

Read More
NEW DATE: October 13, 2021 — 12 noon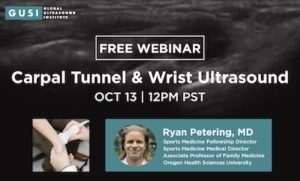 Wrist Ultrasound  with Dr. Ryan Petering
Global Ultrasound Institute

October 21-22, 2021 — In Person or Live Stream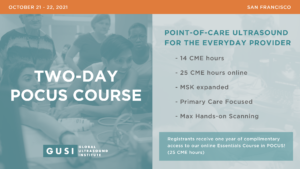 GUSI announces its next two-day course, POCUS for the General Physician, to be held at the Hilton San Francisco Financial District, October 21 & 22, 2021 and streamed live.
REGISTER HERE for In person course
REGISTER HERE for live stream
Past Events & Instructor Talks
May 2021
High-Yield Shoulder Ultrasound: What You Need to Know  with Dr. Ryan Petering
Global Ultrasound Institute
Watch Here
April 2021
POCUS for Global Health  with Dr. Kevin Bergman
POCUS Certification Academy
Watch Here
January 2021
POCUS with a Global Focus  with Drs. Grace Wanjiku, Sally Graglia, & Mena Ramos
Vave Educast
Watch Here 
September 2020
Ultrasound Image Review  with Dr. Mike Stone & Dr. Kevin Bergman
Butterfly Network 
Watch Here