February 2022: GUSI POCUS Women's Health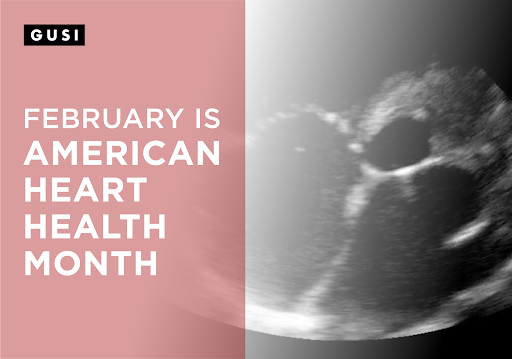 With both the birthday of Elizabeth Blackwell, the first woman in America to earn a medical degree, and National Women Physicians Day starting off the month of February, it seemed appropriate to highlight the role of POCUS in Women's Health. With POCUS gaining more traction in many medical specialties, the benefits to women are far reaching and growing.
February is American Heart Health Month. 
February is also American Health Health Month, which is the perfect time to think about cardiovascular disease. Knowing how to perform an echo POCUS exam can save lives, especially when evaluating patients with cardiac complaints such as chest pain and palpitations. 
Here is a short video from GUSI on how to improve your Echo skills.
Here is a quick reminder on the anatomical locations for the views:
Parasternal (slide right next to sternum)

Parasternal short (slide/tilt towards apex to get papillary muscles in cross section)

A4C (Tilt probe more parallel to chest wall to see 4 chambers instead of just 2 chambers)

A4C (Left lateral Decubitus!) – bring heart towards chest wall and closer to probe

IVC- don't confuse it for the aorta. IVC goes through liver, hepatic vein enters IVC before Cavo-atrial junction, IVC goes into RA

Check out these cases demonstrating how POCUS can be a safe and effective tool for evaluating and managing female patients.
CASE STUDY #1
​​A 38-year-old female presented to the Emergency Department with the complaint of pain and swelling to her left breast. She is 2 months postpartum and has diabetes mellitus. She has been breastfeeding her baby, but with more pain lately to the left breast. After examination, the ED physician has determined that a POCUS examination will help in her diagnosis and management.
Above image from: Acuña, J., Pierre, C., Sorenson, J., & Adhikari, S. (2021). Point-of-care Ultrasound to Evaluate Breast Pathology in the Emergency Department. Western Journal of Emergency Medicine, 22(2).
Read more in this study by Acuña et al about using POCUS to evaluate breast complaints: https://www.ncbi.nlm.nih.gov/pmc/articles/PMC7972395/
CASE STUDY #2
A 30-year-old G1P0 female at 38 weeks gestation is brought to the Labor and Delivery floor after calling her doctor at midnight with complaints of intermittent contractions along with cough and shortness of breath. Upon her arrival, the standard evaluation is initiated, however there are concerns for heart failure on her physical examination, so POCUS of the maternal heart and lungs is performed.  Findings on POCUS do point to heart failure, and there is specific concern for peripartum cardiomyopathy.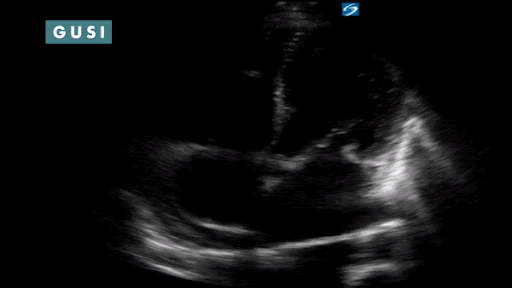 Dilated Cardiomyopathy
Learn how POCUS can have an impact on L&D wards, particularly for the critically ill.
https://www.ncbi.nlm.nih.gov/pmc/articles/PMC8777988/
Click below for a practice update on peripartum cardiomyopathy. http://www.emdocs.net/peripartum-cardiomyopathy-ed-presentation-evaluation-and-management/
CASE STUDY #3
A 25-year-old female presents to the Emergency Department with severe generalized pelvic and abdominal pain and vaginal bleeding. She reports having missed her last period and that she thinks she is pregnant. The patient's heart rate is elevated, and her abdomen is distended with diffuse tenderness. Pregnancy test is positive. The ED physician is concerned about the patient's hemodynamic status so performs POCUS revealing ruptured ectopic pregnancy.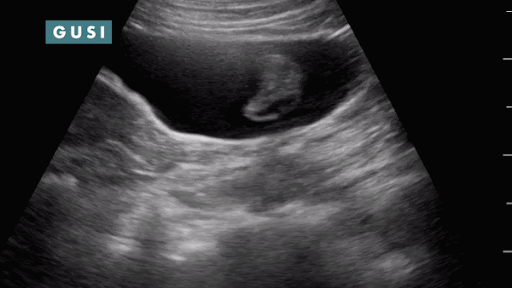 Free fluid in the FAST exam, concerning for ruptured ectopic pregnancy
A recent retrospective study concluded that ED patients undergoing POCUS had quicker diagnosis of ruptured ectopic pregnancy.
https://www.jem-journal.com/article/S0736-4679(21)00647-8/fulltext
Review more on this important not to be missed diagnosis.
https://emergencymedicinecases.com/ectopic-pregnancy-pitfalls-diagnosis/
This month, GUSI also celebrates our spectacular women faculty, including this Faculty Spotlight: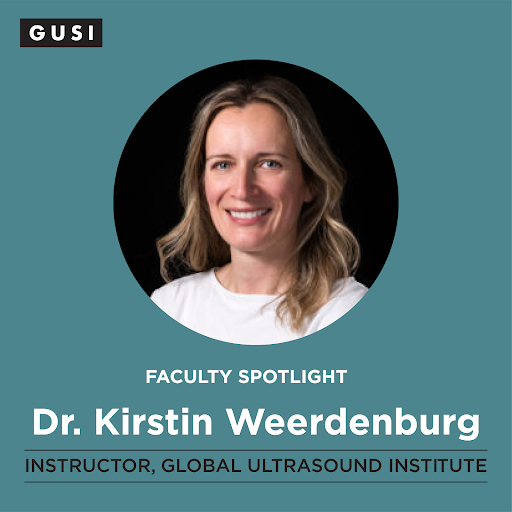 Dr. Weerdenburg is Assistant Professor in Pediatrics and Emergency Medicine at Dalhousie University and Staff Physician and Co-Director for the Pediatric Point-of-Care Ultrasound (POCUS) within the Department of Pediatric Emergency Medicine at IWK Health in Halifax, Nova Scotia, Canada. She is actively involved in undergraduate, postgraduate and staff physician education in POCUS at Dalhousie University and IWK Health and is the former Communications Director of P2Network, a group of international pediatricians, who are committed to globally sharing expertise, building research collaborations and offering mentorship in the use of pediatric point-of-care ultrasound.  She has authored several chapters in POCUS textbooks and performs research on clinical integration of POCUS for multiple applications, as well as medical education and POCUS competency.
Dr. Weerdenburg is thrilled to also partner with GUSI to build POCUS Essentials for Pediatrics. Stay tuned for its release this Spring 2022.
POCUS Training is for Everyone
Our flagship In-Person course, POCUS for Primary Care is coming up in April in San Francisco! Registration is currently discounted through March 1, 2022. We would love to see you there!
ON SALE: GUSI Two-Day Course at the Hilton SF Financial District, April 14 & 15, 2022
ON SALE: 10% off full price till March 1. GUSI's acclaimed two-day in-person course combines high-yield lectures and hands-on scanning sessions. This 13.5 CME course uses a flipped classroom model and is designed to maximize scanning time through low instructor:learner and learner:ultrasound ratios. The course is unique, taught by physicians who are both skilled POCUS practitioners and expert educators. The MSK portion on day 2 will be taught by Dr. Ryan Petering, noted MSK educator and Director of the Sports Medicine Fellowship at Oregon Health Sciences University. Course participants receive one year of complimentary access to our online Essentials Course (25 CME hours, a $289 annual subscription) — available immediately after registration.
GUSI on the Move
Here are our upcoming events and courses:
Health Equity Residency Exchange (HERE)
The Health Equity Research Exchange (HERE) program is the latest way that GUSI is living up to its promise to share POCUS with medical professionals from around the world. For every resident who signs up to learn with GUSI, we will extend a full scholarship to a resident practicing in a low- or moderate-income country. 
Learn more and sign up to participate at https://bit.ly/GUSI_HERE
GUSI is proud to partner with Bridge to Health. 
GUSI provides POCUS educational content for all Bridge to Health projects in Yemen, Bangladesh, and Colombia. Learn more about the projects here: https://www.cbc.ca/news/world/portable-ultrasound-yemen-1.6333047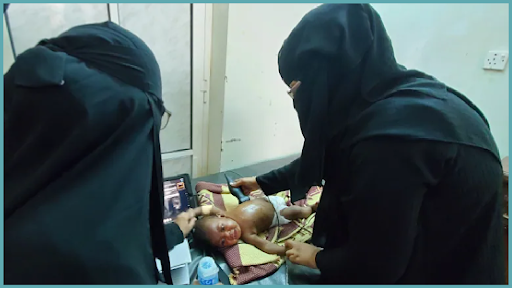 Check out GUSI on Social Media
Mena's tiktok on Echo (Janis Joplin)
Dancing as a tool to remember POCUS views of the heart!  Who says learning hard things can't be fun?
GUSI Having Fun
There is nothing like the joy of getting a great POCUS view!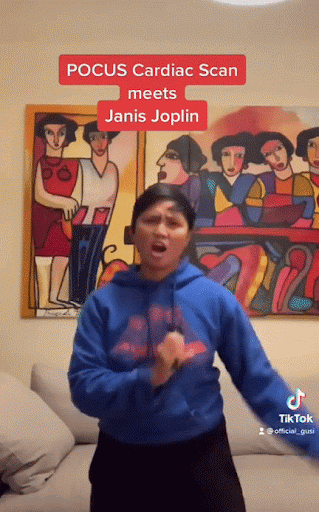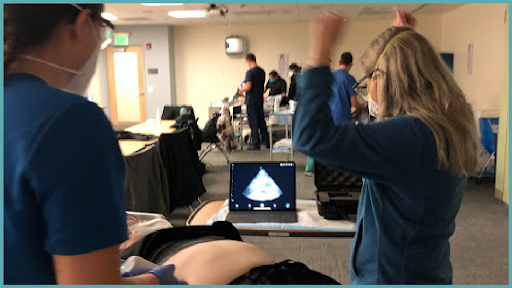 Sign up for GUSI's e-newsletter and updates here.