December 2020: Our Top POCUS Cases of 2020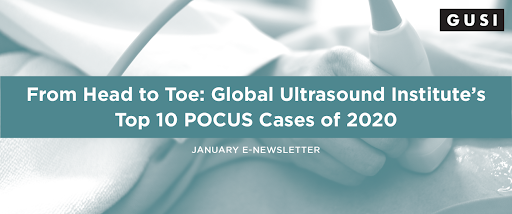 Happy new year!
To close out the rollercoaster year of 2020 and to promote POCUS learning worldwide, we created a 10-day "head to toe" countdown of our 10 most game-changing POCUS cases, from across 10 different organ systems. Check out the cases that made the list, and learn how you could win a free GUSI Master Course subscription for 2021:
From Head to Toe: A Look at Our Top 10 POCUS Cases of 2020
Case #10: Optic Neuritis

We kicked off our countdown with a case of optic neuritis in a patient with 4 days of near total vision loss in the left eye. POCUS showed 6.3mm Optic Nerve Sheath Diameter on L and 4mm on R, and no e/o Retinal Detachment or vitreous hemorrhage.




.
Case #9: Congestive Heart Failure

Our second case featured a 55 y/o patient with a history of CHF and COPD, who presented with shortness of breath, orthopnea, bilateral leg swelling and wheezing. POCUS showed markedly depressed ejection fraction and diffuse bl B lines >3/field.
 

#8: Partial Rotator Cuff Tear

This next case involved an uninsured construction worker, who presented with right shoulder pain for two weeks. Abduction most painful, neg drop test, and strength intact. DDx pre-US: Bursitis, partial or complete cuff tear, tendonitis, adhesive caps, calcific tendonitis, etc. 

 
#7: COVID Pneumonia 

This case featured a 60 y/o female with a history of COPD and 1 week of fatigue, shortness of breath, and dyspnea on exertion. Her Sat was 91%, RR 20, and her chest x-rays showed 'lungs clear, no infiltrates.' Covid PNA findings with PEF and flat IVC. 



#6: Acute Cholecystitis

Next we looked at a case of acute cholecystitis, in a 45 y/o female, who came in for her 3rd visit after months of postprandial epigastric abdominal pain, which had worsened despite PPI+H2 blocker.  POCUS showed her gallbladder full of stones and sonographic Murphy's. 



#5: Acute Aortic Aneurysm 

This case featured a 69 y/o smoker who presented to an outpatient clinic for inhaler refill, and who had been out of care for over 10 years. After POCUS, the patient was diagnosed with an acute aortic aneurysm (AAA). 



#4: Ruptured Ovarian Cyst

The patient was a 30 y/o previously healthy female, who went to urgent care for acute abdominal pain. POUCS showed involuntary guarding diffusely and free fluid abdomen. (-) Upreg. Hg 9->6. The patient was transferred to the OR with a ruptured hemorrhagic ovarian cyst. 



#3: Kidney Stone

Our third case looked at a patient who was a 40 y/o female who presented with 10 days of left flank pain. She was diagnosed with MSk back pain at urgent care. No urinary symptoms.



#2: Diverticulitis

Our penultimate case looked at a patient who presented with left lower quadrant pain and 3 days with loose stools. The patient was diagnosed with diverticulitis. 



#1: Ruptured Ectopic Pregnancy

Our last case of the countdown was a 25 y/o female who presented with acute abdominal pain and vaginal bleeding. Upreg + Focused Assessment for Free Fluid: In this case, POCUS proved FAST and useful in non-trauma settings for a rapid, life-saving diagnosis.

Do you have a game-changing POCUS case from 2020 that you'd like to share with us? Follow the instructions below, and if your case is picked you'll win a social media shoutout and a free GUSI Master Course subscription for yourself or to give as a gift! February 1 is the deadline for submitting your case. 
Send a POCUS video clip

to

[email protected]

(we can d

eidentify it)

Write a one-line description of the case and finding 

Tell us how POCUS improved care for this patient

Include any supporting information, picture, or study relevant for teaching

Sign up for GUSI's e-newsletter and updates here.