February 2023: Celebrating Black History Month and more!

As we celebrate Black History Month and recognize the enormous achievements of African American pathmakers in medicine, we want to take a moment to recognize one such champion in the world of medicine who has opened pathways in public health, pediatrics and primary care.

Dr. Marilyn Hughes Gaston is one such doctor who transformed healthcare in the United States. As a young student, she battled poverty, racism and sexism, though she was determined to become a doctor, a pediatrician. In 1960, she enrolled at the University of Cincinnati College of Medicine, the only African American in her class and one of only six women. In 1986, she became widely regarded for her study on sickle-cell disease, which catalyzed a nationwide screening program to test newborns for immediate treatment. Her impact is still very much present to this day. She was the first African American woman to direct a public health service bureau (the Bureau of Primary Health Care in the United States Department of Health and Human Services). Click the link here for more on Dr. Gaston's work.
In honor of Dr. Gaston's work in pediatrics, this month's POCUS cases will feature Pediatrics Cases. The use of POCUS in pediatrics, like other primary care specialties, family medicine, and internal medicine continues to rapidly grow.
---
Case Study #1
A 15 year old male with a history of Lupus presents to the emergency department complaining of chest pain, fever and excessive sweating that started in the last 24 hours. On exam he appears pale, Vitals: HR-120, BP 70/30, RR 40, O2 Sat 98% on RA. normal heart and chest sounds. He was immediately taken to the resuscitation room and a POCUS was performed while the patient was monitored and IV access was placed.
The following images were obtained:
Images showed pericardial effusion with signs of cardiac tamponade.
A pericardiocentesis was performed with clinical improvement afterwards. The patient was transferred to the Pediatric Intensive Care Unit for further monitoring.
Learn more here about Cardiac Ultrasound for Pediatric Emergencies
Case Study #2
A 2 month old baby presents with 12 hrs of vomiting, lethargy and refusal to eat. On the exam, she appeared lethargic and pale. Vitals: HR- 140 bpm, BP 80/50, T 36.2°C. Her abdomen is tender and distended. Abdominal Xray shows dilated loops of bowel. Ultrasound shows the following: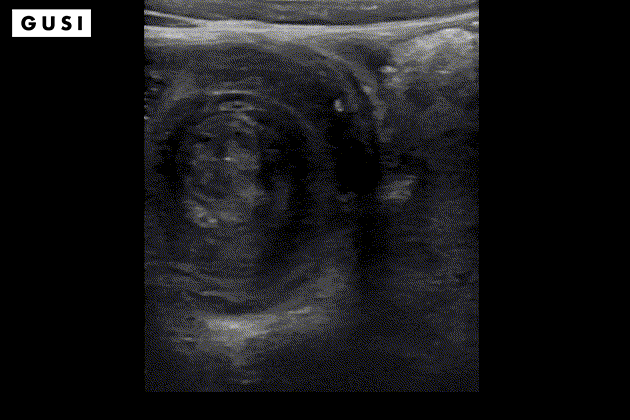 The patient was diagnosed with intussusception (visualize the telescoping of bowel on ultrasound). The patient underwent successful surgical reduction with no bowel loss following a failed air/fluid enema.
Read more via this link about Pediatric Intussusception on ultrasound.
Case images contributed by Dr. Marcela Preto Zamperlini – Staff Physician, Pediatric Emergency Medicine, Point-of-Care Ultrasound Program Director, Children's Institute – Hospital das Clínicas University of São Paulo – Brazil
---
"If there's a book that you want to read, but it hasn't been written yet, then you must write it" — Toni Morrison
---
Ian Thomas MD RSCC CSCS is a 3rd year family medicine resident at McLaren St. Luke's Family Medicine Residency in Perrysburg, Ohio. Dr. Thomas counts writing a $50,000 grant to develop a point-of-care ultrasound (POCUS) curriculum at his residency and being elected Resident Representative for the American Academy of Physicians (AAFP) POCUS Member Interest Group as his top professional accomplishments. He was awarded the American Academy of Physicians (AAFP) Award for Excellence in Graduate Medical Education, an honor given to only 12 Family Medicine residents in the country. Additionally, he was selected by the AAFP Emerging Leaders Institute (ELI) as one of thirty in the country, and has dedicated his ELI project to building a sustainable ultrasound workshop for the Ohio Academy of Family Physicians in 2023 as well as raising funding for the only Family Medicine Residency in Malawi, Africa to start their own point-of-care ultrasound program. In his free time, he coaches and is the program director of a local men's gymnastics academy and enjoys traveling abroad and learning new languages. Following residency, Dr. Thomas will pursue a Sports Medicine fellowship at Harvard Boston Children's Hospital.
---
GUSI Upcoming Events
Hands-On Point of Care Ultrasound Training for Primary Care

GUSI's acclaimed two-day in-person Point of Care Ultrasound Training course combines high-yield lectures and hands-on scanning sessions. This 13.5 CME course uses a flipped classroom model and is designed to maximize scanning time through low instructor to learner and learner to ultrasound ratios. The course is unique, taught by physicians who are both skilled POCUS practitioners and expert educators. Course participants receive three+ months of complimentary access to our online POCUS Essentials Course (25 CME hours, a $289 annual subscription) — available immediately after registration.

 

 

FREE WEBINAR: Demystifying POCUS in FQHCs and Value-Based Clinics

Wednesday, March 29 at 9 am PT | 12 pm ET

Point of care ultrasound (POCUS) has the potential to become an essential diagnostic tool in primary care and community health settings. However, many providers and clinics are either unfamiliar with the benefits and implementation of POCUS or lack the necessary training. This webinar aims to demystify POCUS, highlight its practical uses, and highlight best practices in Federally Qualified Health Centers (FQHCs) and value-based clinics.
---
GUSI on the Move!
Members of the GUSI teaching team at the Wright Center for Community Health having a great time teaching POCUS.
We would love to come teach at your institution! Click here to contact us.
---
Check out our map of learners around the world!
---

Best wishes,
Kevin, Mena, & the GUSI Education Team
Sign up for GUSI's e-newsletter and updates here.