April 2023: Physical Exam vs. POCUS go Head to Head
In addition to the history of present illness, the physical exam and its 4 pillars, inspection, palpation, percussion, auscultation are cornerstones in medical education.  The physical exam has evolved over several centuries and continues to evolve.  When considering the way POCUS is revolutionizing the ability to acquire immediate information as to the happenings inside of the body in real time, one can consider POCUS as a 5th pillar to the physical exam in the form of insonation.  
However, not all would agree.  This month's newsletter is dedicated to critically examining aspects of the modern physical examination and the role of point of care ultrasound as a complement to it. 
Legend has it that in the 1750's, Dr. Leopold Auenbrugger  the son of an innkeeper and a Viennese physician, discovered the technique of percussion while tapping on wine barrels in his father's cellar.  He noticed that tapping over fluid vs. air made a different sound and this could be applied to evaluating the lungs.  However, his discovery which was published in a small book called Inventum Novum was met with rejection from the medical community.  It was not until Jean Nicolas Corvisat 50 years later that Napoleon's physician re-invigorated percussion while teaching to his medical students.  The technique of percussion is a perfect example of how sometimes brilliant innovation in medicine takes time to adopt.  Dr. Laennec can attest, the discovery of the stethoscope met similar resistance.
"I have not been unconscious of the dangers I must encounter, since it has always been the fate of those who have illustrated or improved the arts and sciences by their discovery, to be beset by envy, malice, hatred, detraction, and calumny." – Dr. Leopold Auenbrugger, 18th Century.
   Auenbrugger, L. [From the Annuls of Medical History]
Auenbrugger understood the importance of his discovery saying: "The use of percussion enables us to recognize the presence of fluid or air where we would otherwise be in doubt or be misled by deceptive symptoms."
Today, percussion is still used as a standard part of the physical exam with a sensitivity of 89% and a specificity of 81% for pleural effusions, but modern technology has extended the capabilities of physicians even further.  Point-of-care ultrasound is now commonly used as an extension of the physical exam. Comparatively ultrasound has a sensitivity of 94% and specificity of 98% for pleural effusion and has the added benefit of further elucidating physical exam findings and more safely performing needle-guided interventions when more invasive interventions are necessary. 
Fifty-five years later, René Laennec would go on to expand the physical exam by the invention of the stethoscope in 1816. A recent meta-analysis by Arts et al demonstrated the pooled sensitivity and specificities of lung auscultation of 37% and 89% respectively for various acute respiratory pathologies. By comparison ultrasound had a pooled sensitivity of 88-93% and pooled specificity of 89-99%.
By combining traditional physical examination techniques with advanced medical technology, physicians can now provide patients with more accurate and efficient diagnoses, allowing for earlier intervention and better outcomes.
---
Case Study #1
You are an intern Family Medicine Resident seeing an acute add-on in your Continuity Clinic. Mrs. Smith, a 68-year-old female with a history of COPD, CKD IIIa, and CHF and presents to your clinic with a cough and shortness of breath. Upon initial examination, her vital signs are as follows: temperature of 99.2°F, heart rate of 104 beats per minute, respiratory rate of 22 breaths per minute, and oxygen saturation of 90% on room air.
On physical exam, Mrs. Smith has crackles in her right lung, 1+ pedal edema bilaterally and dullness to percussion. She also has mild accessory muscle use and decreased breath sounds on the right side. A point-of-care ultrasound is performed, which reveals the following: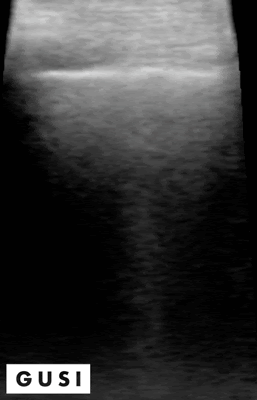 Crackles can be heard in various lung pathologies, but ultrasound can be used as a confirmatory tool to help distinguish various lungs pathologies including COPD or CHF exacerbation or presence of consolidations such as above which would point to pneumonia as the diagnosis. 
Mrs. Smith is started on antibiotics and given supplemental oxygen. Given her age, respiratory rate, and underlying kidney disease the decision was made to admit her to the hospital for further evaluation and management of her pneumonia.
Case Study #2
Mr. Johnson, a 63-year-old male, presents to the sports clinic in Florida with a 6-month history of pain in his right elbow. He reported since moving to the Villages he began playing pickleball more often. He states he has a high pain tolerance and has been toughing it out and describes the pain as a sharp, burning sensation that is located on the outside of his elbow and worsens with gripping the racket or lifting objects.
On physical exam, there is tenderness over the lateral epicondyle of the humerus, and pain with resisted wrist extension while making a fist as well as resistant extension of the 3rd digit. No reproduction of symptoms when percussing over the radial tunnel. POCUS revealed a tear of the common extensor tendon and involvement of the radial collateral ligament.
According to Clark et al 2010, the presence of larger tears of the common extensor tendon and/or involvement of the radial collateral ligament on ultrasound are predictors of poor outcomes with conservative management, as such, the patient is referred to orthopedic surgeon. The surgeon recommends a course of physical therapy and non-steroidal anti-inflammatory medication to start. However, given the extent of the injury, surgical intervention was ultimately deemed necessary.
In this case, Cozen's and Maudsley's signs were both positive and have high sensitivities of 84% and 88% respectively, but according to Saroja et al 2014 has specificities of 0%. This case highlights the importance of ultrasound as confirmatory tool for physical exam tests with low specificity as well as helping identify patients who will be better candidates for conservative management versus those in which more aggressive intervention may be needed.
Case Study #3
Mr. Lee, a 35-year-old male, presents to the emergency department after twisting his ankle during a basketball game. He can't recall how he landed, but reports that he heard a popping sound and has significant pain and swelling of his ankle and is unable to bear weight.
Physical exam reveals no tenderness of the fibular head, base of the fifth metatarsal, navicular, or posterior distal malleoli. Talar tilt and anterior drawer reproduce pain, but no laxity was noted. Kleiger's and tibiofibular squeeze tests are negative. However, a point-of-care ultrasound is performed, which reveals an injury to the anterior inferior tibiofibular ligament (AITFL).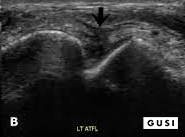 [POCUS Image Courtesy of Choi et al 2019]
This finding suggests a high ankle sprain, which requires different management than a typical ankle sprain and are associated with prolonged morbidity if not accurately diagnosed and treated. One should evaluate the interosseous membrane in the setting of AITFL ligament tear and contrastingly, normal tibiofibular ligament excludes injury to the interosseous membrane and predicts a shorter return to play in an athlete.
Follow up radiographs to exclude fracture demonstrated decrease tibiofibular overlap, increase medial clearspace confirming syndesmotic injury, but also demonstrated and instability on stress views necessitating referral to orthopedic surgery for syndesmotic screw fixation instead of conservative management with non-weight bearing in a CAM boot for 2-3 weeks.
Though tibiofibular squeeze and Kleiger's tests have high specificities of 92.5% and 85% respectively, enough to rule in syndesmotic injuries, according to De Cesar et al 2011 and Larkins et al 2020 their sensitivities of 30% and 25-71% and cannot reliably rule out syndesmotic injury in the case these tests are negative. In this case, ultrasound which has a sensitivity and specificity of 89-100% per Mei-Dan et al 2009 can be used as a screening tool in the context of severe ankle sprain to out injury to the AITFL and compliment physical exam and radiographic findings.
---
Dr. Jose Zumba was raised in Sacramento, CA where he has spent most of my life. He did his medical school training at Loma Linda University where he first learned about POCUS. He had the privilege of continuing using POCUS throughout residency and currently uses it as an attending in Internal Medicine. He uses POCUS most frequently for diagnostic and therapeutic purposes as a Hospitalist at UC Davis Medical Center. He is currently involved in residency training in POCUS and working on a curriculum focused on inpatient medicine for his Hospitalist division. He has also had the privileges of working in the local county system as a primary care doctor and understands the importance of using POCUS in resource-limited areas. He looks forward to sharing his passion for ultrasound with other teachers and learners.
"What I love about POCUS is that it helps remove a certain degree of uncertainty in regards to my medical decisions to best help my patients." – -Dr Jose Zumba, Internal Medicine, UC Davis
---
GUSI in the Community 
We are so thankful to everyone who joined us in San Francisco for our April 2023 flagship in-person course, POCUS for Primary Care – which was sold out! 
This course was our biggest course to date, featuring 55 participants and 20 POCUS instructors. Participants represented a broad range of specialties from family medicine, internal medicine, hospitalist medicine, physical therapy and pediatrics – from practice settings including outpatient, clinic, urgent care, and emergency medicine.  They also represented physician faculty, physician program directors, fellows, residents, physical therapists, physician assistants, and nurse practitioners.
This was a 2-day flipped classroom course with short lectures followed by extended hands on scanning to build POCUS confidence and competence.  Day 1 focused on POCUS competencies including the FAST exam, cardiac, pulmonary, gallbladder, renal, aorta, and DVT.  Day 2 focused on musculoskeletal applications such as rotator cuff assessment, carpal tunnel, achilles evaluation, diagnostic knee, plantar fasciitis and other common primary care MSK POCUS diagnostic, pathologic, and injection approaches and applications.  
Stay tuned for updates on the next POCUS for Primary Care course on October 5-6, 2023 in San Francisco! 
---
Health Equity, Health Literacy and Pipelines for Underrepresented Minorities
GUSI partners with Black Girls Brilliance and Montera Middle School in Oakland, California to accompany 12 middle school students on a POCUS journey.  With probe in hand, middle school students were accompanied by POCUS experts to perform musculoskeletal, cardiac and abdominal scanning.  
"Black Girls Brilliance's youth leaders left the POCUS hands-on experience with an excitement to continue their exploration of the medical field and a fascination after looking "inside the body."  – – Dr. LB Williams, Founder, Black Girls Brilliance.
For a generation accustomed to high data and the use of technology for immediate answers, POCUS is an excellent tool to engage youth in connecting with the wonder of anatomy and medicine.  Seeing is truly believing.
---
GUSI in the Community Advocating for Change
On April 15, Dr. Mena Ramos joined family medicine delegates at the California Academy of Family Physicians Lobby Day in Sacramento, California to lobby for increased funding for screening on social determinants of health and family medicine residency education. 
---
Ultrasound Guided Nerve Blocks
Ever in a situation where a patient requires analgesia after suffering from a shoulder dislocation or a large laceration to the limb?  What if your patient could not tolerate opioids (high risk of falls, respiratory compromise) or you worked in a practice setting with limited access to anesthesia? Ultrasound guided nerve blocks can be extremely helpful to improve analgesia and also minimize risks associated with systemic medication. 
---
Building Connections Through Community
If you're interested in joining our global community of POCUS passionate instructors, reach out to us at [email protected]globalultrasoundinstitute.com
---